Around the Cauldron today we have Karenne Griffin, Australian by birth (Tasmanian, actually), but now as staunchly welsh as Charlotte Church, Robbie Savage and original rebel, Owen Glendower. She writes chicklit set in the valleys and villages of where she lives.
Karenne is a lover of life and always seems to be at a party, a wedding or down the pub for a few pints of Skull Attack and so I was lucky to track her down. Karenne has visited the Cauldron before
Karenne's First Visit To The Show
and I picked up the Wizphone to reintroduce myself. Here's what Karenne had to say.
Tell us a bit about yourself, Karenne?
I'm always creating something. My head is constantly buzzing with ideas. Usually a piece of writing, otherwise something I want to make. I've just made a new gate for the lane out the back. Carpenter friend said to my partner 'she's not bad at DIY, your missus'. I'm fair glowing with pride. Have dreamt up a fabulous multi-coloured bird box, must get around to it sometime.
In what genre do you write?
Chick lit with an edge. Definitely not fluffy. But I like to mix the serious stuff with humour aplenty.
You are Australian by birth. How does living in Wales differ and what do you miss about home?
I'm a bit chippy about the Australian thing. I left there 35 years ago for goodness sake! Wales is my home! But unfortunately no matter how I try to speak posh I still sound very Australian. Okay, there are worse accents, but if I had pots of money I'd definitely be looking for the services of a speech therapist.
Tasmania (where I was born) is roughly the same size as Wales with the same slightly dubious climate, both of which facts surprise a hell of a lot of people. Australia is so far from anywhere else I don't find there's anything much to miss.
Australia's Gold Coast
Much prefer to be here, if you get a bit fed up you can be somewhere interesting and foreign without too much hassle.
July in Barry Island
Tell us about your latest work.
My most recent publication is New Voices in the Valley. It's set in modern-day Wales. It's a rocking romp in the valleys, lots of rock bands and some remarkable characters. Someone said to me last week: 'I KNOW these people, this could be my village.'
Both men and women are enjoying this one, there's a bit of crime and murder and stuff. Not that I wish to categorise men, but they do tend to prefer crime to romance.
Can you share an extract?
Leighton left the stage to a smattering of applause, and Paul took to the microphone once more.
'Thanks, Leighton. Now give it up for our local lads, the Bad Boys!' he bellowed as they took their places. Gwilym saw his mam in the crowd and gave her a wave.
Jamie's hands felt sweaty on the drumsticks but he took a deep breath and struck out as Gwilym launched into the first notes of Black Magic Woman.Darren strutted the stage, somehow managing to keep the bass riff going. Gwilym's lead solo was like molten gold, and the audience thundered their appreciation.
The rest of their set was received with tumultuous applause and wolf whistles, particularly when they played a current song called Hot in Here and Darren ripped off his t-shirt. The audience went wild, crying out for an encore.
'Bad Boy,' murmured Darren to his bandmates. It was a song he'd written to showcase his vocal gymnastics. Even though the song was unfamiliar the crowd clapped along.
With riotous applause resounding around the room Jamie jumped off the stage.
'I gotta get back to Mrs Arthur's!' he called to Gwilym. 'I'm late already.'
Paul allowed a short break for Darren and Gwilym to soak up the glory.
'Well!' he said, taking the microphone once more. 'I think those Bad Boys will be a hard act to follow, but we'll do our best. Come on, guys. Time for Still, Novak and Goode to take to the stage. And we have a surprise for you.'
Nasim made his way downstairs, pint in hand, pleased that he'd arrived in time to hear Still, Novak and Goode. He pushed his way forward into the middle of the crowd.
Tudor joined the band onstage as the final notes of Baby Come Back echoed around the room.
'And here's Tudor Harries, our Rockin' Reverend, joining us. The idea is you have to pay to make him stop singing. Hilda will be taking the bucket round for your donations, and when she thinks you've paid enough she'll tell him to shut up. Take it away, Tudor!'
Tudor took up the microphone and wiggled his eyebrows as the band swept into a Roy Orbison favourite, I Drove All Night.
'Jesus wept!' groaned Leighton. 'Much more of that and I'll be sick in Hilda's bucket.'
Thanks for that, Karenne. So, what are your ambitions as a writer?
I aim never to run out of words! I've dreamt up four more novels that I want to write, one of which I've started. And I've got a first draft sitting in a cupboard upstairs that I want to return to one day.
What are your impressions of the landscape in which we work? How could they improve?
Oh, I'm pretty happy with the independent publishing scene purely because of the freedom of being independent. No-one leaning on me to achieve deadlines.
Creativity under pressure doesn't work so well for me. The only improvement I'd like to see is quality independent publishing being taken more seriously. There's some great stuff out there – I very rarely read anything by a 'famous' author these days.
I hear you are into running? Tell us about that. What are the benefits of running and do they help your writing.
Jim Fixx - father of modern leisure running
You make me sound like a serious athlete, but really I'm just a plodder. I jog about 5km twice a week through some nice Welsh countryside. My partner and I start off from the same place but he covers vast distances and sprints up vertical inclines while I simply putter along. I return to the car long before him, and read my Kindle while waiting. Yes we are nuts, we drive to places for a run. Usually no more than 10 miles from home. We've exhausted what's on offer on our doorstep.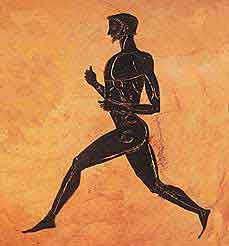 Pheidippides - the runner who ran from Marathon to
Athens to share the news of the Greek Victory over the Persians
"While plodding along I love to absorb the sounds and scents and sights of nature, and I'm usually exercising the cogs of the brain with any kinks in the plot of whatever I'm writing. And even though I'm a slow jogger it's definitely improved my fitness. I also walk a lot."
Karenne watches the runners pass while reading her Kindle
Mutant Marsupials invade Wales (through a D-Day landing at Barry Island) and you are kidnapped as you run along the beach. You are taken to an abandoned holiday camp and thrown in an old chalet, once called Primrose). Inside, you find a sack. In the sack is one book, once CD and one DVD all from 2013 /2014 (if you can, Karenne). What would you like them to be?
Book: Stranded in the Seychelles by Bev Spicer. A fellow independent, a brilliant story.
CD: James Arthur's debut album. Brilliant lyrics, powerful vocals.
DVD: The Love Punch. Saw it at the cinema last Sunday, very funny if implausible in parts. Bound to be out on DVD soon.
What did you think of '13'? What are your top three Sabbath albums?
'13' is great! Fave tracks are 'Pariah' and 'Live Forever'. '13' is definitely in my top three along with 'Sabbath Bloody Sabbath' and 'Paranoid'. Never tire of the track 'Paranoid'.
Invite one actor, one comedian and one writer for dinner at your place. And what would be on the menu, chez Karenne.
Actor: Simon Gregson
Comedian: Rob Brydon
Writer: Bev Spicer.
"I'd cook Mexican, my tacos are legendary and I do a mean chicken chimichanga. Washed down with a couple of Methuselahs of finest Bollinger (Simon and Rob can bring). The banter around the table would be quite something to behold. We'd probably end up going skinny dipping at midnight in the ponds at the local park".
And finally, what is your next project and when can fans of Karenne Griffin expect to see it.
I'm working on 'Return to the Island', a sequel to 'Beyond the Island'. Twenty thousand words in already, and it's gelling nicely. And as a sideline I'm about to embark on a little travel writing project. I've recently got my free bus pass (60 – eeeeek!) and the last time I was in Cardiff I couldn't help thinking what fun it would be to just take off, me and my bus pass.
My goal is to visit Portmeirion (above) of Prisoner fame. Somewhere I've always wanted to go, love the Italianate architecture.
Best ever British TV series - The Prisoner. Filmed
I'm bound to meet all sorts of mad people on the way and get into a few situations so it should make a jolly tale and hopefully inspire other people fortunately blessed with free bus passes to branch out and support the British tourist industry. 'Return to the Island' I hope to have published by the end of 2014, but will start work on 'Bus Pass Holiday' as soon as I return mid-May and hopefully knock that out within a couple of months.
Holiday On The Buses.
Filmed at Barry Island Pontins or somewhere
very like it
So as you can see, Wiz, life is busy and happy and I wish there were more than 24 hours in each day.
Karenne, once again, an entertaining look at your life and I am sure Wizardwatchers will join me in wishing you a terrific year and the very best of luck.
Thank you, Wiz. Really enjoyed it.
Karenne enjoying another Saturday night out with
pals
Buy New Voices In The Valley By Karenne Griffin CLICK HERE
Karenne's website: www.karennegriffin.yolasite.com
'New Voices in the Valley' is available for Kindle from
Amazon 23rd-30th April for only 99p/99c as part of the
Countdown discount programme.
You can download three of my short
stories from Alfiedog.com
Green Wizard's In Praise of Self Publishing
Possibly the best single episode of ANY TV series filmed in
Britain. The Prisoner - "Fall Out"
John Gregson - classic fifties leading man. Unfortunate
to miss an invite to Karenne's dinner party.