Karen Magill

was trotting along quite nicely, enjoying life, clubbing, following bands (mostly Poison), editing a rock fanzine, and just doing her thing when she was - cutting a long story short - diagnosed with MS.
Losing a top job, she soon found herself unemployed and on benefits. Earlier this year, she wrote her story. I read it the other day and it is an eye opener.
Karen's work fits squarely in a long tradition of exposition, memoir and true life "factionalisation" of physical and mental health issues and arguably, Indie has played a significant part in allowing authors to share their stories and to show that sufferers of conditions like MS are not alone.
An envied resident of the beautiful city of Vancouver, I contacted her as she wandered the streets of the city's artists quarter. Here's what she had to day.
Tell us a bit about yourself, Karen?
I come from a family of writers. My paternal grandmother was a published author and I have always written. When I was diagnosed with MS and forced to leave my position in the government, I realized that I now had the time to pursue my dreams of writing.
For those of you unfamiliar with MS, here's a breakdown
Multiple sclerosis (MS) is a nervous system disease that affects your brain and spinal cord. It damages the myelin sheath, the material that surrounds and protects your nerve cells. This damage slows down or blocks messages between your brain and your body, leading to the symptoms of MS. They can include
Visual disturbances
Muscle weakness
Trouble with coordination and balance
Sensations such as numbness, prickling, or "pins and needles"
Thinking and memory problems
No one knows what causes MS. It may be an autoimmune disease, which happens when your immune system attacks healthy cells in your body by mistake. Multiple sclerosis affects women more than men. It often begins between the ages of 20 and 40. Usually, the disease is mild, but some people lose the ability to write, speak, or walk.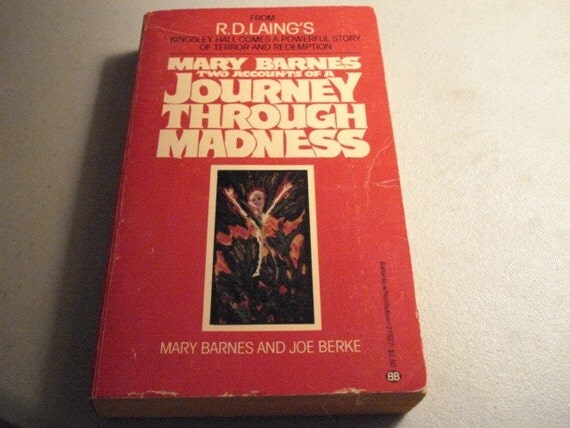 Mary Barnes and alternative psychiatrist
RD Laing wrote a brilliant true life exposition of a journey
through schizophrenia
In what genre do you write?
When I write fiction, I write paranormal and my non-fiction is motivational.
To date, I have three published fiction books and one nonfiction.
I also write a blog on Vancouver called the Vancouver Vagabond. It is filled with photos and the history of this city I love. Presently, I live in an eclectic area of the city.
Vancouver Vagabond BLOG Click Here
One of the world's most beautiful cities, Vancouver
Tell us about your latest work, Karen
Memoir and motivational autobiography
of Karen's experience with MS
My latest work is a motivational book entitled On The Right Side, My Story of Survival and Success. It tells my story of living with multiple sclerosis.
Here's an extract:
When I was nineteen, after the accident on the horse, I lived in a bachelor suite in an older home, not far from where I live now, and went to fashion college in Gastown. One day, I started to have tremors, my entire body was shaking. My parents lived in Kamloops, over 200 miles away, but a friend of theirs took me to the emergency room at St. Paul's Hospital. I had a few people look me over and someone called the neurologist on duty. He must have been called away from an important event because he showed up in a tuxedo. After examining me, he told me I could control the tremors if I wanted to.
I took this to mean I was making it up.
Once a medical professional gives me that impression, I don't want anything to do with him or her any longer. I feel that he or she is not going to pay proper attention to my case any longer and will just write me off. That is a personality flaw I have to change because there are times when I have to fight for myself, not that I really like to. (I know, my Irish ancestors are probably rolling over in their graves because I don't like to stir up trouble .) Sometimes I think doctors and such just don't know what is wrong and are frustrated. It is easier to think that a person is making up or exaggerating symptoms when a cause can't be found. Because people do invent illnesses for attention . Another possibility is that I am misconstruing the situation and being too sensitive. Medical professionals are not all knowing Gods – although some may act like it – they are people who are constantly learning and can make mistakes.
Magill, Karen (2014-02-15). On The Right Side: My Story of Survival and Success (Kindle Locations 334-342). CreateSpace. Kindle Edition.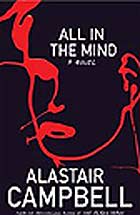 Labour Spinmeister-in-chief Alistair Campbell
wrote about his battle with depression.
What was the motive behind writing this book? Did you find writing the book cathartic? Was there a compulsion to explain?
In June of 2000, I woke to find myself partially paralyzed on one side of my body and was diagnosed with MS nine days later. Just over three months later, I was forced to leave the best job I had ever had. I didn't realize at the time but I had been given a gift. Now my time was my own and I could chase my dreams.
"I wanted to write this book to show people who are going through similar situations that the acceptance of your situation doesn't come immediately and that it is okay to screw up. For some reason, I couldn't write it for years. Something changed last year though and it just started flowing out of me."
Brenda Perlin's "factional" account
of the breakup of her marriage
and genesis of a new relationship
I consulted diaries I had kept at the time and I found it emotionally taxing to write. It was cathartic. I don't know about the explaining part though, I don't feel a need to explain anything really.
Was it physically tough to write the book?
Physically, it wasn't hard. Emotionally it was tough. I realized that I hadn't dealt with many of the emotions I went through at the time.
Is the Independent publishing landscape an apt one for this type of work?
I chose to indie publish this book because then I'm in control. There is no waiting months to get something done that can be accomplished sooner.
Indie author Amanda Green's popular account of
Borderline Personality Disorder
What are the challenges in writing this type of soul searching non-fiction. What has been the reaction of your friends and family?
I haven't heard back from my family yet on this one but a friend of mine with MS phoned me and told me how she could relate to certain events.
Simon Weston's account of his life
before and after the Argentinian
missile attack on HMS Galahad
Follow Karen Magill on Twitter
https://twitter.com/KarenMagill
You are also a motivational speaker. Tell us more about that. How was your work as a personal developer and motivator inspired by your condition?
I am inspired by the MS because I am going through a life path that many would just give into. I want people to realize that they don't have to give in and that many times what seems to be a tragedy or crisis can be the best thing to ever happen to them.
Where can readers hear you speak?
I have a few videos, short ones, on Youtube but if you want to hear me speak live, then you can always hire me! LOL
The Giants Within awaken and as you are about to speak at a weekend retreat on a sun splattered beach on Vancouver Island, you are kidnapped and taken to Castle Robbins on the border with Alaska. They leave you. Ever-resourceful, you discover a trunk, break open the lock and lift the lid. You find a book, a CD, a DVD and a Dessert. What would you like them to be.
For a book, I would love to find the Complete Works of Shakespeare because it is long and I wouldn't get it read quickly.
for a CD, older Bon Jovi;
The Crow with Brandon Lee for a DVD
and Tiramisu for dessert.
Invite two inspirational figures and a comedian to dinner. And what would you eat.
My dinner of spaghetti with butter, shrimp and parmesan cheese would be shared with
Sir Richard Branson
Anthony Robbins
and Robin Williams.
And what do fans of Karen Magill have to look forward to in 2014.
In 2014, I should have the sequel to Missing Flowers published.
That one is entitled, A Little Poison. I will continue to work on getting more speaking engagements and hopefully other interview opportunities.
Karen, it has been an absolute pleasure to see you on the show and I wish you every success with your ventures in 2014.
Thank you, Wiz!
Karen's Writing Group - Martin Crosbie, Karen Dodd and
Karen herself
Website: http://www.karenmagill.com
www.facebook.com/karen.magill
A Southport Beach Shrimper finds ingredients to
go nicely with Karen's spaghetti


One of many drug addiction and recovery
memoirs available - by ex crack addict
Bill Clegg






Ex Karen fave, hairspray and spandex
glam band Poison