This week, we have UK romcomerati Tara Ford with us around the Cauldron. One of the new wave of women's fiction scribblers, and very funny with it, Tara turned to writing after a period of severe illness and much of what she experienced formed the (comedic) core of her first novel. Her
Calling all
series is attracting rave reviews from the cognoscenti and it is hard to escape the perception that writing, for Tara, after her illness nearly took the option away, is a second chance, one that she's taking with both hands.
I picked up the Wizphone and caught up with her as she wandered blithely through sunkissed fields of Hampshire hops and barley, mulling over plots and twists for her latest work. Here's what she had to say.
Hiya Tara. Tell us a bit about yourself.
Hi Wiz, thanks for inviting me around the cauldron.
To cut a very long story short, I've spent the last thirty years wanting to write a story. During my child-rearing, husband-nurturing and dog-walking years the yearning to put untrained index fingers to the keypad grew and grew. I just couldn't think of a story to write, though.
Then three years ago I became quite ill, to the point of spending some time in a Neurological unit.
Bingo! It's highly likely that they gave me a new brain (when I wasn't looking) in the hospital or maybe even renovated the old one, because I suddenly had an overwhelming urge to write.
My plan was to turn the whole experience in to something fictional and comical hence, 'Calling All Services' was born.
Now my head is full of all sorts of weird and wonderful things, bursting to escape and make their presence known in the form of words.
For a northern girl, what is it like living down South? Is it a culture shock?
The Beautiful South
I was 13 when I moved to the South and yes it was a bit of a culture shock as everyone spoke rather oddly. I didn't own enough t-shirts for the amount of summery days on offer and the water tasted like it had been drip-fed from a chalk board.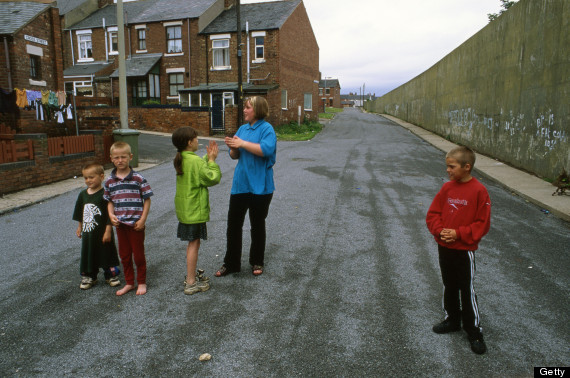 The North
Once acclimatised to these strange, new experiences, I began to like the South.
I travel back to the North each year to see family, so I guess I get the best of both worlds now. Still prefer the Northern water though.
In what genre do you write?
With the release of my second book, I like to think that I write in the Chicklit genre, with an unusual take on it. As for the first book, well, I would have to say women's fiction.
Original women's fiction - audiobook of
Jane Eyre, by Charlotte Bronte.
I think that both books would be categorised as humour as well. I like to make people laugh and hope this comes across in my writing.
Tell us about your latest work.
My second book, '
Calling All Dentists
' has just been released, with anticipation... It's a bit like Marmite – you'll either love it or hate it.
I have a WIP which is the third instalment in the 'Calling All...' series. 'Calling All Customers' has been the most fun to write so far. There are some rather crazy characters in the story (I'm relieved to get them out of my head and into a word doc on my laptop, just so that they will leave me alone for a while), along with members of the Frey family, who feature in every book, one way or another.
For many cinemagoers, Katherine Heigl's "27 Dresses" is commonly thought to be the most complete cinematic RomCom experience in the post-Hepburn era. Do you agree or do you have an alternative suggestion?
Ooh, believe it or not but I haven't heard of that one (have now because I just asked Jeeves). I'll have to watch it – thanks Wiz. I have always liked Goldie Hawn and my favourite film is 'Overboard'. So I may or may not agree with your question, I'll let you know when I've seen '27 Dresses'.
Tara Ford ignores the
critical consensus and chooses
Goldie Hawn vehicle,
Overboard.
You work in education. How would you encourage young boys to put down their X-Box 1's and read again?
I would write an epic about the boy who saved the world from a band of children who had morphed in to gamepad controlled zombies and were ruled by Dr X-Box. I would then withhold any film rights so that the only way to discover the fate of the world would be to read the book. Mwahahaha!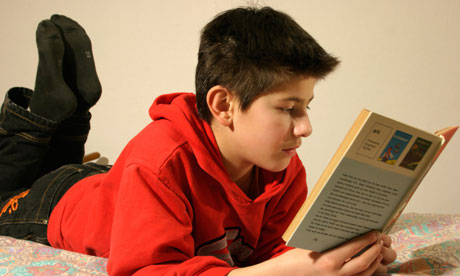 A sadly rarer scene than it once was thanks to
evil corporate global games developers
Would you agree with the statement what without Jane Austen, we would have never had Sophie Kinsella?
Firstly, it's a shame that Jane Austen never knew the degree of her fame. Secondly, I believe there were always going to be Jane Austen's throughout history and Sophie Kinsella (and others like her) are the contemporary Austen's of today.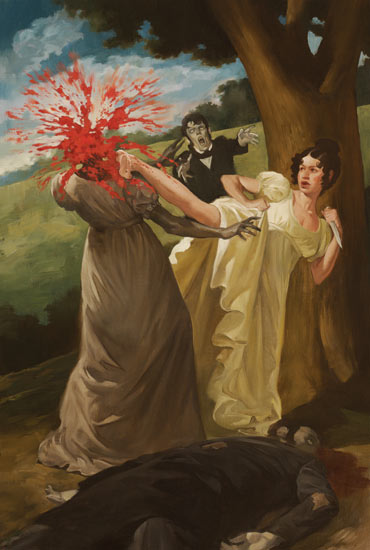 Modern representation of
Jane Austen -Zombie Slayer
Women became freer to express themselves over time, so it was inevitable that they would eventually share in probably the biggest genre of today – Chick-lit.
The only recording remaining of women's fiction
pioneer Virginia Woolf - who would have loved the modern
Dr. Nibbles, a dentist from Wrexham, is so offended by your portrayal of dentists that he kidnaps you as you emerge from the local IKEA. You are taken to an abandoned dental hospital and thrown in a cellar full of old dental chairs. Underneath one, you find a sack. In the sack are two books, two CDs and a DVD ) plus a player. What would you like them to be?
Ah yes, the elusive Dr Nibbles. Well, old Nick Nibbles and his band of cheery, white-toothed fiends had better keep out of my way, especially if I'm shopping in IKEA.
In the sack my two books are, 'The Undomestic Goddess' by our dear Sophie (The protagonist is a bit like me – can't cook and could very easily burn a jelly)
My two CDs are both by Andrea Bocelli, 'Sogno' and 'Romanza'. Number one thing to do before I die – go and see him in concert (when I've sold enough books to pay for the tickets) hmm.
The DVD is '
Planes, Trains and Automobiles
' staring Steve Martin and John Candy. Best film ever!
Obviously the player is a SONY right?
I think it's one of those crank-it-yourself ones you get from Asda, Tara. What do you do when you are not writing?
Answer questions around cauldrons, I have a close affinity with the Pendle Witches you know
The Wizard's big mates - those rascally Witches of Pendle
Also, I like to walk my dog, look after the pond and fish and do some gardening (Hmm is that a weed or a plant?).
I also love to read and have just received a fab new book called 'The Night Porter' which is now on my 'To-do' pile, next to my bed.
The Night Porter advertised in Portsmouth
(a shameless and tacky plug - Ed)
B.Perlin
Ha ha. Thank you, Tara. Hope you enjoy it. So. Hugh Grant or Colin Firth
Hugh Grant, most definitely. Love all his films
Give us an Indie romcom author to watch out for in 2014
Has to be Susan Buchanan, author of 'Christmas Spirit', 'The Dating Game' and 'Sign of the Times'. She has been a great inspiration to me and given me lots of advice and encouragement along the way.
I believe that she has a fourth novel due to be released in or around September of this year.
Finally, what do fans of Tara Ford have to look forward to in 2014
No more medical themed romcom dramas! I would love to be able to say that the third book will be ready by the end of this year but that depends on how often I get invited to do fun interviews like this one.
Failing that, I will just be tweeting around the world, here and there. Writing the odd and usually strange, comment on Facebook, trying to understand how to use Google+ effectively and reading in my garden (weather dependent of course – unless I use an umbrella I suppose).
Tara Ford ancestor enjoys an
afternoon in the primrose garden reading Proust.
Tara, it's been an absolute pleasure to see you and I wish you all the very best with the Calling series in the coming year.
Thank you for having me here around the cauldron Wiz, I have enjoyed chatting with you. By the way, may I ask – what's cooking in the cauldron?
Freshly spawned frogs, voodoo dolls, leaves of the black lotus...and some stuff that came in a big tin.
Website: http://taraford.weebly.com/
Twitter: https://twitter.com/rata2e
Facebook: https://www.facebook.com/#!/Tara.Ford.Author
Goodreads: https://www.goodreads.com/author/show/7125535.Tara_Ford
Pinterest: https://pinterest.com/rata2e2/
LinkedIn: http://www.linkedin.com/profile/edit?trk=tab_pro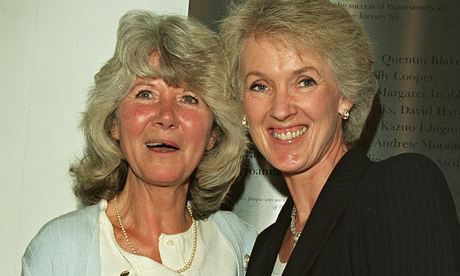 Unwittingly, Tara finds herself part of that southern women's fiction heritage,
as represented here by Joanna Trollope and Jilly Cooper, neither of
whom has ever spoken to a northerner, even on Twitter and that.
Modern day Pendle witches sample a pint of Cotton Mather
IPA from the Dog and Duck Inn.


The Plane Tree, Burnley. Tara's home town. Classic hotel and Inn in need of TLC.
(Many a great night spent in there...sigh...Ed)
Unlike many novels, Reading Calling All
Dentists isn't like pulling teeth. That IS Tara, btw.