Emma Edwards
For fans of vampire fiction - and indeed, all the Wizardwatchers who have been with the blog since the beginning - the name Emma Edwards needs no introduction. The South Wales scribbler has just released her third book, Ensanguined on Kindle, with the paperback version on the way.
UK and European Readers: Buy Ensanguined HERE
US Readers: Buy Ensanguined HERE
Already attracting big reviews in America, the book promises shock after shock as well as the usual lashings of rock music, blood and, er, rather naughty sex. What I like about Emma's work is the books are firmly set in reality. Readers in the vicinity of South Wales can actually follow the avenues and alleyways trod by Angel and the Erebis mob and we have all met people like Ash, the arrogant and explosive lead singer of the band, who you either adore - or, well, you don't (in my case). Her villains too are surprising and original. That's the beauty of her books - you know the characters and you know the places: Emma takes vampire fiction to places no one else does. Anyway, here's what Emma had to say when we met around the Cauldron.
Hi Emma, how are you? Great to have you back.
I'm fine, Wiz. It's great to be back.
What have you been up to since the last time we threw spells at each other?
Well, at the moment I feel as though I am emerging from a cave where all I have been doing is writing and editing Ensanguined. This one has been consuming.
Emma's writing notes in one of those caves just
past Porthcawl.
Third books of Trilogies are always the worst. Tell us about Ensanguined? Are all the characters we know and love there? Any new additions?
Emma's terrific covers continue - the first two are at the bottom of the
interview
Ensanguined starts off six months after Imbrued ended, with Ash and Angel on their way to their Happily Ever After...or not, as it turns out.
All the old favourites are back but following on from the betrayal experienced in Imbrued, the vampire house is remaining closed down to new arrivals, so no new additions this time.
There are a few bombshells dropped with massive fallouts for all concerned and even more betrayal, which leaves Angel wondering how well she knows the people that she thought she did and having doubts about people that she had once had absolute belief in.
How do you feel about Ash, three books on? Has he changed? Has he evolved in your mind?
Ash is still my man and in some ways he will never change, the anger, the possessiveness and the attitude but in Ensanguined he does find that he has to compromise himself a lot to get what he needs. He still gets it wrong but he does try to be the man that Angel needs him to be and by the end of the book his outlook on life changes a hell of a lot.
Gothic Lead Singer
I hear there is controversy brewing? Are fans going to hate you afterwards?
Well, my characters have never been perfect but a certain person's behaviour does go way off the rails in this book and I know that sometimes people can be fanatical about fictional characters. I considered toning it down, but I felt it contributed too much to the story to do so, so it stayed in. No-one has screamed at me yet, but there's still time, I guess!
Erebis fans - probably
When I have asked readers about the scene in question, the general consensus is that people don't like what happened but they understand why it happened.
Someone told me that they did indeed want to smack the character in question (and it's not Ash this time) but that real people make real mistakes so why can't fictional characters...and my characters certainly make a lot of mistakes!
Is there a book four?
There was never going to be, when I started the series it was always going to be just the three and I think that the way I have ended Ensanguined, it could go either way. I'm torn on this one, I don't want to continue this series if it risks becoming repetitive and loses the magic, but on the other hand I don't want to leave these characters. Although, I do have an idea for a spin off from the original series, I'm just waiting to see how it all develops at the moment.
Is Ensanguined just as er, rampant, as the other two, particularly Sanguinary. I know someone who got the vapours half way through the first horizontal encounter between Ash and Angel. It's pretty strong stuff and she had to be revived with prescription drugs.
Wow, that must be pretty strong stuff!! I don't think that this book is as rampant...but then I never thought it about the first one until people started pointing it out to me, so maybe I am not in a position to judge. Sometimes, I can't help it, those two can't seem to keep their hands off each other but the dynamic between Ash and Angel definitely changes towards the latter part of this book and the heat does get turned down.
Emma's proof reader Luci-Fur deep in thought
Will Ash's band Erebis ever become a jazz funk collective?
Hahahaha...no I don't think that I can see Ash going down that route...
You wrote a cunning little short story for the Green Wizard anthology "Reality Bites". Did you enjoy that? Or are you a novelist to the core?
I really enjoyed writing that short story. I love it when the seed is planted, that grows into an idea and then it all comes together. That was the first time that I have wrote to a brief and I enjoyed the challenge.
Emma Edwards appearance in
cult anthology - by some way the
darkest story


Is it true your Dad won't read your books because of how naughty they are? Does that make you feel guilty?
Yes, that is true and given what happened with the reader who had the vapours and needed reviving I would say that it is probably a very good thing that my Dad won't read them, I'm sure no father would want to be reading that kind of thing from their daughter. Guilty? No, just a bit rebellious, hehehe!
Vampire Fiction. Are we in the Twilight of the genre? Or is there something more for writers to say?
There are so many vampire books out there and it is difficult to come up with something new but vampire lovers tend to be devout and will rabidly consume the next vampire book, whether is it something completely original or otherwise, so I guess as long as those vampire lovers are out there then there is the market for it.
Brilliant vampire story from 1972 portmanteau horror film, "
The Vault of Horror"
What was the last a) book b) CD c) DVD you consumed?
Born Villain by Marilyn Manson (Manson is my writing soundtrack)
The last DVD that I watched for my own pleasure would have been a re-watch of The Crow, it's a definite classic and it never gets old.
And finally, what can staunch fans of Emma Edwards expect in 2014?
I am working on a completely new book at the moment featuring, well....vampires, but this one is back to the more traditional vampires, not the human blood-drinkers of Sanguinary.
I have another novella which is started and I am hoping to get finished soon, this one is firmly based in reality though.
And there is still that little seed of the Sanguinary spin-off that has been planted in my mind and I am waiting to see where it takes me.
Emma, it's been an absolute pleasure to see you again, and I cannot wait to read Ensanguined. I wish you – and the Sanguinary gang! – the best of luck in the coming year.
Thanks, Wiz. And the best of luck to you and the Wizard Watchers...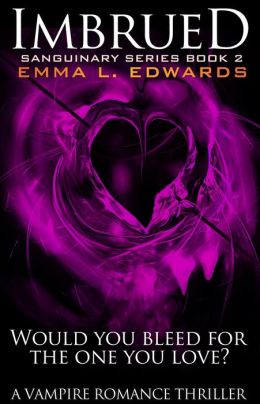 Links can be found on this interview here:
Emma's First Interview with the Wizard 10 Aug 2012
The Wizard's Classic Review of Sanguinary