This week around the Cauldron we meet author Terry Tyler who, if anyone reading this plays on Twitter, is one of the biggest figures on the UK Indie Twitterverse.
I don't know Terry very well and I was astonished when researching Terry's work to see the sheer density of five star reviews for her six novels - certainly, if that is any judge of talent, and it's possibly the best one we have - she is one of the highest rated authors we've seen around the Cauldron.
Now living in the North East and avoiding the floods which have blighted England this past fortnight, I picked up the Wizphone and we had a natter. Here's what Terry had to say:
Hi Terry, tell us a little about yourself
Hi Wiz. Well, I've lived in Northampton, Norfolk, and now Geordieland. I've worked in JobCentres, a psychiatric hospital, bars, restaurants, several offices, I ran my own gift/arty shop in the 1980s, managed a deli, and had a few periods of full time writing – oh… okay, the first of these was better known as 'unemployment'….!
Gateway to the North East - "The Angel of the North"
You live in the North of England. Does that infuse your work or could your stories occur anywhere.
I don't write about where I live at the moment, because I haven't lived here for long enough to understand the culture of the place. I've put some Geordie-ness in a couple of novels, but only tentatively.
Byker Grove: one of Newcastle's most famous TV shows, which introduced
the world to the megastars that are Ant and Dec
Have you avoided Noah's floods?
Yes, it's hardly rained up here.
Newcastle pub from the early seventies:
from Get Carter - "In A Thin Glass"
Tell us about your work. Are you a writer of romance and chicklit? Or something different?
Something different. There are elements of both in some of my novels, but I'd call what I write contemporary drama (You Wish, Nobody's Fault, Nine Lives), romantic suspense (The Other Side, What It Takes) with a little bit of rock romance (Dream On, Full Circle).
What's your latest release?
The last book I published was Nine Lives, which is a collection of nine short stories. They're not on any particular theme, and quite a mixed bag; several end with good twists.
It's only 77p, and has got a lot of really good reviews; I was very pleased. Many of the reviews begin "I'm not usually a fan of short stories, but…" – I put the book out free on publication, which always helps, of course!
A little bird tells me your next book has a historical fiction theme? What's that about?
I'll be writing a blog post all about it in due course!
Now, thats's cheating!
No, it's called being mysterious...
Which of your books are you most proud of? Is there a book you have written which, given a parallel universe/your time again, you would have changed or altered.
I'm most proud of the one I've just finished (see above). Aside from that, I feel the same about all of the others. I'd write the first three (You Wish, Nobody's Fault, The Other Side) slightly differently now, simply because I know I've improved since I wrote them.
I really ought to take them down and amend, but I haven't got round to it yet.
Most of your work on Amazon UK is five-star rated. Do you agree with the school of thought which says that scenario harms sales?
I haven't heard of that. I suppose that would be the case if I just had a few reviews for each that were all obviously from family and friends who hadn't reviewed anything but my books. I can't see how having good reviews is harmful, unless what I outlined in the previous sentence has occurred. Most of them have a couple of not so good ones, too, and even the good ones aren't all completely glowing! Suffice to say they're all genuine and I greatly appreciate every one of them.
Terry Tyler UK Author Page
Terry Tyler US Author Page
I read an interview with you in which you say you don't do Linked in and Pinterest etc. Has that changed? What ONE marketing/social media could you not do without?
No, I still don't use them. I registered with Linkedin as I thought it might be useful, but I haven't kept it up. As for which one I couldn't do without, that's hard, because Twitter is vital for my writing life, but Facebook is how I keep in touch with all my friends from whom I live far away. So it depends if you mean in a writerly or a general way. Twitter's my favourite site, though. It's by far the most interesting and varied.
Twitterlife
I can't be bothered with Linkedin either. Too many shoulder pads and Blackberry reminiscences for my liking. I do Pinterest though - very pretty in parts. If there was one thing you would change about the Indie landscape, what would that be?
To be truthful, I'm not that bothered about 'the indie landscape' – I'm not one of the 'proud to be Indie' contingent; I may well submit books to publishers in the future.
Indie legend, Morrisey the Mancunian
I suppose it would help if people didn't do the fake review thing, then all the genuine ones wouldn't be looked on with scepticism.
The Long Running Poor Robert Saga - Alleged Fake Reviews
A few people have said that Amazon ought to have some sort of quality control, with a special section for those that are presented to the standard of the traditionally published, but that would create all sorts of problems; even if a book is well proofread and edited it can still be badly written, and who is to say what is good and what is not?
Stranded on a desert island ten miles off the coast of Whitley Bay with just a punctured pedallo and a Mars Bar, you luckily discover a sack. Inside, you find two books, two CDs and a DVD. What would they be?
What a hard question to try and answer!!! For the CD, can I choose two anthologies that don't exist – yet? I could have made them myself!
They would feature tracks by
Aerosmith
,
Debussy
,
Satie
,
Nat King Cole
,
Billie Holiday
,
AC/DC,
Hendrix
and Miles Davis,
with the odd bit of 80s pop rock – got to choose things that you won't get fed up with if it's the only one you've got!
One of the greatest albums of the eighties: UB40's
Rumours that the very first track
is named in honour of Terry are so far unsubstantiated.
ONE film? I suppose a boxed set would be cheating? Okay, okay – it would need to be a long one, then. 'Once Upon A Time In America', I think.
Sergio Leone's last film - what a wonderful shot!
Now, two books…… got to be something with lots of variation… (excuse me while I walk over to the book shelves)…. Right!
The Collected Works of Dorothy Parker,
and Bill Bryson's
'A Short History of Nearly Everything'.
The magnificent Bill Bryson speaks.
What did you eat tonight for tea?
I presume you mean 'dinner'? Ha ha! I'm from the south of England – 'tea' is a pot of it and cakes, at four o'clock! I'm writing this in the morning, so I'll tell you about last night's – it was a Morrissons' Chicken Jalfrezi and peas!
All round to Terry's for tea!! Yum....
Bring along your pots of mushy peas - England's national dish!
A fairly common occurrence, I must admit. I mostly can't be bothered to cook properly.
Spender or George Gently?
George Gently, definitely. I love him. I didn't like Jimmy Nail much after the first couple of series of 'Auf Weidersehen, Pet'.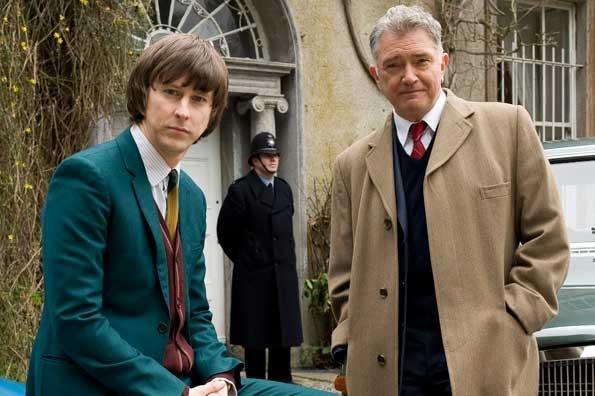 George Gently and angry young
assistant (whose name I can never remember - ED)
And finally, what do fans of Terry Tyler have to look forward to in 2014?
I am not sure yet when the aforementioned contemporary/historical drama will be out; TBA, as they say. Next I am going to start a novella for Christmas, to bring out in late October – well, if Morrissons can start flogging crackers and candles in September, I can put my Christmas book out in October! Then I shall start on the sequel to the first.
Terry, it's been a pleasure to see you around the Cauldron and Wizardwatchers wish you the best of luck in the coming year.
Contact:
Alan Pardew enjoys a night out on the Bigg Market
George Gently may have a cool coat, but he
Though the City Jack returns to in the book
is Doncaster, folk memory, and the film "Get Carter"
ensure that the city is now, indelibly, Newcastle.