Continuing our series highlighting the work of top quality chicklitIndies, I cast a spell using my bendy wand, and amidst the smoke and the stars above the Cauldron, the magic compass pointed Due North and alighted upon Scottish scribbler

Susan Buchanan

who has made such a stir with "The Dating Game", which, as I ascertained (to the disappointment of all the Wizardwatchers over fifty), has nothing to do with dating agency classic comedy "Carry on Loving".
Crystal clear prose, a lightness of touch and some typically robust Scottish humour characterise Susan's work and I was keen to get down to business.
I picked up the Wizphone and dialled Glasgow - here's what Susan had to say.
Hiya Susan. So. Who is Susan Buchanan?
Hi Wiz. I'm a 41-year-old, Scottish new-ish mum who has written 3 novels so far. I've been writing full-time for 2 years, although the first book had already been finished for about four years before that. My background is in languages - French, Spanish, Italian and Portuguese and I worked in European and international sales for about 15 years.
Whereabouts are you from and do you like it there?
I'm originally from north of Glasgow, but now live south east of the city (I think!) - in the suburbs. It's OK. If I won the lottery, I'm sure I'd move somewhere else!
A Quiet Moment Contemplating the Loch...
But I would always want to have a home in Scotland in any case, either in the Highlands or on Loch Lomond. I have lived abroad a few times, France twice and Spain once, but was a bit homesick.
...and a Big Glasgow Night Out.
Sign of the Times was my first novel, which took me 6 years to write - I was working full-time and travelling all over the world, so basically I wrote it when I was on holiday! It's a zodiac-based relationship drama which has been compared to the TV series Cold Feet and the movie Love Actually, but with more characters, as there are 12 main characters, each one representing a sign of the zodiac.
BUY Sign of the Times
The Dating Game is chicklit set in Glasgow and Barcelona and is about a workaholic recruitment consultant who joins a dating agency for professional people, as she's fed up being set up on blind dates which don't go anywhere.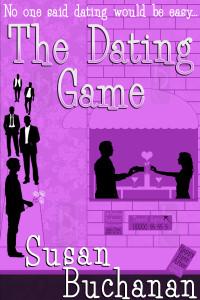 BUY The Dating Game HERE Amazon -
http://amzn.to/RuSl7Y
(UK)
http://amzn.to/WZQtZK
(US)
The Christmas Spirit came out in December and is about 4 people who aren't looking forward to Christmas for various reasons, and a mysterious woman who comes into their lives with the sole aim of instilling Christmas spirit in them and ensuring they have a great Christmas.
What are your ambitions as a writer? To make large amounts of money? To produce a masterpiece? To become famous?
Well, who wouldn't like to make shedloads of money so they knew that long-term they could simply write books and that would be that!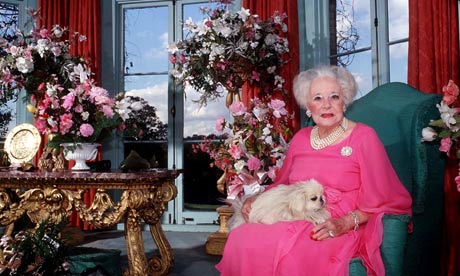 Original super-rich rom com novelist and author of 378 books,
Barbara Cartland. With obligatory poodle
I'd like to see my books on bookshelves - currently they are only in digital format, but I am toying with the idea of having one or two of them in paperback if not later this year, then next year. It's just a case of finding the time.
I did a European literature degree, so no, I'm not out to create a masterpiece.
I've had enough of all that! I want to create novels that I would like to read and which will engage my readers. Not remotely bothered about being famous, in fact would prefer not to, as otherwise would have to stop looking like a bag lady of a morning and actually have to make an effort to be out of my pyjamas before midday! Having a 10-month-old teething baby will do that to you!
Have you ever seen the classic "Carry On Loving?", which is about a dating agency. If so, did it influence The Dating Game?
Do you know, I am rubbish at remembering details from films. I must have seen it, as my dad loved the Carry On films and I remember watching them with him as a kid, but I don't remember that one at all.
Now you've said that, of course I am going to have to go and rent it out! No, The Dating Game was inspired by a friend of mine who joined a professional dating agency, but there the similarity ends. Gill's experiences were far more interesting than my friend's!
The best piece of marketing advice I ever received is "forget social networking and write your next book." Would you agree with this? If not, where can readers find Susan Buchanan burrowing away with her marketing plan?
It's such a hard balance to get right. I know I spent far too much time on Twitter for the longest time and of course, now with the baby, I can't dedicate (nor do I want to) the same amount of time to it as I did in the past, but I think you have to keep trying to figure out what works and readjust your plans accordingly, as regards marketing. But yes, I am a firm believer, especially now in 'get the next book written'. That's the most important thing. However, if you don't network, who are you going to call upon when you go to launch your next book?! It's a vicious circle.
Learn more about Susan Buchanan HERE
Blog -
www.susancbuchanan.blogspot.co.uk
I have written a 15 month plan but I tend to have 3 month detailed marketing plans which are rolling as well.
What else do you do apart from write?
Change nappies, make up bottles, ensure my daughter doesn't bump her head too much - she is now crawling - and all the things that new mums have to do. In addition to that, I am in the process of setting up a proofreading, editing, and translation company, which should go live in March. I'm laying the groundwork at the moment.
I spend a lot of time with my immediate family and see my friends when I can for dinner. I also like going to classical music and folk music concerts and gigs. And I read! If I ever get the time again, I will start running again (see above).
Serious cineastes consider the Katherine Heigl vehicle "27 Dresses" to be the Citizen Kane of cinematic chicklit experieces. Where would your vote go?
Well, this may come as a shock but I haven't seen it and I really like Katherine Heigl as an actress, so I'm surprised I haven't seen it. Annoyingly, I checked this morning and it's not on Sky. Darn! Will have to see if I can buy the DVD.
For me it's got to be Bridget Jones' Diary. In fact I'm reading the new Bridget Jones at the moment. This would be closely followed by Love Actually.
Trapped in the Outer Hebrides after a particularly worrying blind date with a demented Crofter, you discover a sack. In the sack are two books, a CD and a DVD (with battery powered player). What would you like them to be?
The photo...
Ah, so you've met the crofter have you? Oh dear! I have actually been to the Outer Hebrides, I've even camped there! The books would have to be
The Historian by Elizabeth Kostova (about the true story of Dracula - fictionalised clearly!)) I can read those books over and over.
CD would be Tchaikovsky's The Nutcracker - I'm a big classical music fan and
DVD would be Monsters Inc!!
Give us a chicklit/romance Indie scribbler worth keeping an eye on in the future. -
There are so many, but I suggest Tracie Banister from Georgia, USA, as she is the first indie writer whose book I have wanted to read twice.
She is author of Blame it on the Fame (set around the Oscars, hence my wanting to read it at this time of year) and In Need of Therapy. I gave both books 5 stars and I'm impatient for her new release this spring - hopefully!
Hue and Cry or The Proclaimers? -
Well, interestingly I actually saw The Proclaimers in concert in 2012 - not through choice, although they were good. I actually met Greg Kane when he came into the tourist office where I used to work in Glasgow, when I was at university - and that was in their heyday! So, Hue and Cry all the way! - Labour of Love!
What did you eat for tea last night?
Well, I was on my way to the Celtic Connections concert and was meeting a friend for coffee beforehand, so I grabbed an extremely early tea of some homemade minestrone and homemade bread that my beloved had made for me. Chinese tonight though!
And finally, what do fans of Susan Buchanan have to look forward to in 2014?
Well, my fourth novel, What If, is due out in the summer. And all going well there might even be a release towards the end of the year, too. What If is the story of a 40-something man, a bit of a playboy, who wakes up one day having had an epiphany. He then starts to reassess his life and thinks back to all the major decisions he has made in his life - work, relationships, family, and wonders what if he had made a different choice.
Susan, it's been fantastic to meet you and thank you for coming round the Cauldron. Wizardwatchers and I wish you the best of luck in 2014.
Thanks for having me, Wiz - it has been a pleasure.
Contact
Twitter - http:/twitter@susan_buchanan
Oh, so true!
A Hebridean Crofter's widow takes exception to her
speed dating scorecard