I'd like to welcome
Katie Oliver
around the Cauldron today.
Living in Washington and something of an Anglophile, I met Katie through a spontaneous retweet on that frenetic pimpmobile, Twitter. She's excellent company and well worth following.
@katieoliver01
Her first book is out next week and I have a feeling its going to be a success.
From her sweeping, tree-house enshadowed abode somewhere near Colonial Downs, I interrupted Katie on a shopping trip for big hats and nattered with her over the Wizphone.
Here's what she had to say. Well worth reading.
Who is Katie Oliver?
I'm an about-to-be-published writer who decided to get serious about writing after my two boys grew up. So I wrote a romantic comedy, "Prada and Prejudice," followed by two more books featuring some of the same characters, "Love and Liability" and "Mansfield Lark."
When I have time, I love to read – Maeve Binchy, Helen Fielding, Mark Haddon, Kate Atkinson – and I love watching movies. "Love Actually" is a brilliant, perfect film that I never get tired of.
Do you live anywhere near Laurel?
Funny you should ask – I used to visit my aunt when she lived in Laurel, Maryland, when I was a girl! We currently reside in Northern Virginia, which is an hour's drive from Maryland.
Laurel Park. I spent two great afternoons there in the mid-Noughties, and
that rock club at the top of the road where the locals wound me up
something rotten about Ozzy being born in LA! Great times. (Wiz)
Are you a professional author? If not, is this an ambition?
Well, according to
Romance Writers of America
, if you (a) finish a novel and (b) submit it to an agent or publisher, you're considered a professional writer.
And since I have an agent and a book about to be published by Carina UK/Harlequin, I think it's safe to say that yes, I'm a professional writer.
Tell us about your work. In what genre do you write and why?
Although publishers of necessity put genre labels on books – chick lit, romantic comedy, paranormal, etc. – I think of my writing as women's fiction (although men like my books, too). But if I had to assign a genre, I'd say they're rom-coms. I love the give-and-take between two characters who are attracted to each other even when (especially when!) they know they shouldn't be - or when they initially can't stand each other. And I love witty banter. I think my love of romantic comedy goes back to the screwball comedies of the thirties – Nick and Nora Charles, Topper, Fred and Ginger, etc.
Fred and Ginger - 'Top Hat'
Tell Wizardwatchers about your latest release?
My first book, "Prada and Prejudice," published by Carina UK/Harlequin, is out 2 January 2014.
"Love and Liability" and "Mansfield Lark" will follow in February and March, respectively.
It's the story of a lovely but rather clueless girl whose privileged life is upended when her family's London department store, Dashwood and James, struggles to survive in the wake of a failing economy.
To help the ailing store, Rhys Gordon is called in. Rhys is a very successful Operations Manager with an impressive record of turning poorly-performing businesses to profit again.
"He has no doubt that he can transform Dashwood and James back into the robust and much-loved store that it once was.

If, that is, he can make Natalie Dashwood change her spendthrift ways and learn to forsake Prada for Primark …"
Explain the appeal of romcoms and chicklit.
Everyone likes a heroine they can relate to. Whether she's slightly overweight and trying (and failing) to quit smoking, or an interfering matchmaker who wreaks havoc in her friends' love lives, we laugh at her, and roll our eyes, but we root for her.
Take a letter, Miss Jones
"We want her to find a real and lasting love, because under all her insecurities, she deserves to be loved. The desire to be loved is within us all. It's a very primal, very universal thing."
Has there ever been a better chickflick than "27 Dresses?"
That is a good chick flick!
A welcome reappearance on the Cauldron for
My favourite is "Bridget Jones's Diary." I love Bridget's vulnerability, and the fact that she's flawed and funny. I love that she makes bad choices – over and over again.
She isn't slim and gorgeous or tripping around in a pair of Manolos; she's normal and imperfect and real.
Name three books a newcomer to chicklit may be interested in reading.
Well, I'd definitely recommend the "Shopaholic" series from Sophie Kinsella as a great place to start.
Next, Holly McQueen's "The Glamorous (Double) Life of Isabel Bookbinder" is hilarious fun;
and thirdly, anything by Katie Fforde (I'd start with "Stately Pursuits").
What's in your desert island sack?
Books: "Jane Eyre" by Charlotte Brontë;
"Savannah Breeze" by Mary Kay Andrew
CD: "London Calling" by The Clash;
DVD: "Arthur" (with Dudley Moore and Liza Minelli)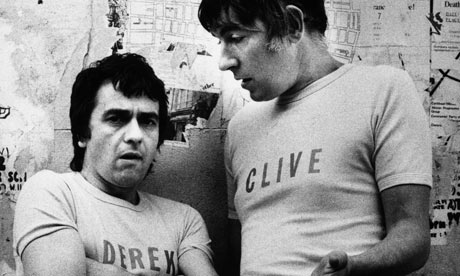 Earlier incarnation before Dudley Moore
achieved mega stardom 'Derek and Clive'.
What do you do when you are not writing?
I think about writing! LOL. And I read – lots of fashion magazines, and I try to catch up on some of the ebooks waiting on my Kindle. I don't think I'll ever read them all…but I intend to try!
Give us an Indie romcom writer to look out for next year?
Susan Buchanan is an excellent indie writer, very skilled at weaving various storylines together, and her characters are compelling.
And finally, what do fans of Katie Oliver have to look forward to in 2014?
I have a new series in progress featuring an Irish-American family living in Baltimore, Maryland, that promises to be a lot of fun. And I'll continue blogging, and Tweeting, and FaceBooking. You never know where I'll pop up next…
Katie, its been a rare pleasure, and on behalf of all the Wizardwatchers, I wish you luck and every success in 2o14.
Thanks Wiz! Much appreciated - and best of luck to you too.
Happy New Year!
Arthur
Susan Buchanan Googlette
Classic, now forgotten tearjerker from 1970 - "Love Story"